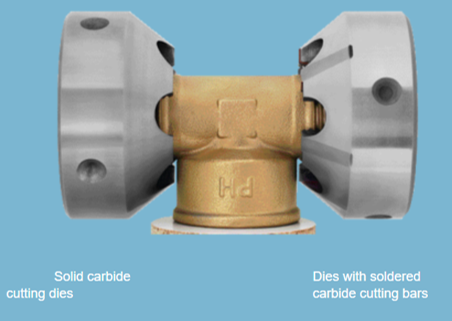 Taps:
Taps is one of our primary products that we specialize in. These are the most widely used tools to machine internal threads by cutting or forming method. Based on Customer's Application we cater a wide range of options to meet the desired finish, life and cost per component. We deal in all standard, non-standard sizes and customized solutions.
We try to cater complete range of taps in terms of tap material, Sizes, design types, coatings, industry standards, thread forms, industry requirements and suitability as per application material.
Inquiries for Special Tolerance, Dimension lengths, through coolant and High Performance Coatings are also available on request.
Thread Turning & Milling:
Thread Mill is a trending alternative with a versatile approach to machining of Internal & External Threads. These are ideal for complicated thread profiles, low clearance and high speed machining applications.
We are happy to offer a wide range of Threading Tool options in various sizes, thread forms and geometries to machine a wide range of application Materials.
Non-standard tools are also available on request.
Threading Dies:
Thread Cutting Dies are available for External Threading Applications. Precisely ground with excellent surface finish of thread flanks and cutting edges.
We are glad to offer a range of Thread Die options available in various sizes, thread forms and Tool material.
Solid Carbide and Carbide Brazed are also available on request.